There's nothing worse than when one of your favorite pieces of fine jewelry breaks. After being in business for over 70 years, we know the emotional and sentimental ties you can have to a special ring, necklace, or other item. When you need expert jewelry repair near you, you should trust the people with the most experience. You should trust Norman Hege Jewelers.
Our Rock Hill, SC jewelry store provides all types of jewelry repair. We specialize in ring repair. We offer ring sizing, engraving inside rings, stone setting, rebuilding of prongs, remounting, and replacement of diamonds or any type of stones. We'll cut rings off for free, too.
We also offer repairs for pearls or beaded necklaces, including knotting and restringing. We'll return your necklace to like-new condition. We'll also repair bracelets, earrings, and any other type of jewelry.
And there's another benefit to working with a locally owned jewelry store like ours. We design and create custom jewelry right here in our shop. You'll be amazed at some of the things we can do. This includes totally new designs or things we create from existing jewelry. Not sure what to do with a piece of jewelry? Bring it in and let us take a look. We'll come up with ideas that capture the look you want or preserve a special memory.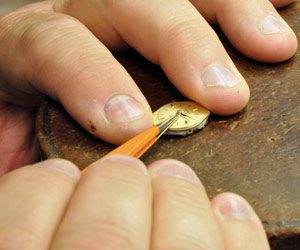 Free Estimates for All Jewelry Repair
Every jewelry repair we do is handled right here in our shop, including ring sizing. We understand that you're concerned about the handling and care of an engagement ring or other special piece of jewelry. We promise that when your jewelry is with us, it's in good hands.
We offer free checks and cleaning of all types of jewelry. Plus, we'll provide a free estimate if we determine that repairs are needed. Once you've approved the estimate and we've received any necessary parts, we'll get your repairs made within one to two weeks. Best of all, we're always here to answer any questions you may have. Our employees are knowledgeable about all aspects of our business and want to make your experience the best it can be. Call or visit us today to learn more. We're just a short drive from York, Clover, Fort Mill, Lancaster, Great Falls, Chester, Lake Wylie, Tega Cay, South Charlotte, and surrounding areas of the Carolinas.
Contact Norman Hege Jewelers